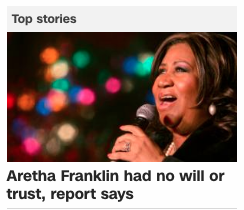 I received a call one morning from a college friend who asked if we could have lunch that day.  I could tell from his voice that something was troubling him.
We met for lunch and after ordering our food, I asked what was going on that he needed to meet so suddenly.  His answer is a common problem that nearly everyone experiences.
"I am having dinner with my parents tonight and I want to talk to my parents about their money, but I don't know how to ask them."
Thankfully there is a great way to open that conversation today thanks to the Queen of Motown Aretha Franklin dying without a will.
Approach your parents with "When I heard about Aretha Franklin, I wondered whether you had a will and that led to other questions running through my head."
Five Money Conversations Every Family Needs to Have