Become a Financial Olympian
Are you a Financial Olympian? Do you have specific financial goals, a comprehensive financial plan, and the ability to measure your success?
The Tannery Company team acts as your "coach," supporting you in gathering your information, monitoring your investments, and measuring your progress on your financial life goals.
Our tools will give you a picture of your complete financial life and our team will provide you with personal, technology-enhanced guidance with total transparency into your wealth. The result will transform the way you understand, manage and grow your net worth.
These are some of the cutting edge tools we use. Take a moment to review them and see the impact that together we can make on your future.
Are you ready to be a Financial Olympian?

Riskalyze | Blueleaf | Right Capital | Pricing
---
What are your investing goals & what is your actual risk tolerance? These are the two largest components that dictate how you should invest for your future.
Are you like many investors who fail to consider the risk your portfolio holds? Chances are you'll find yourself making irrational, emotional decisions that negatively impact your personal success.
Using our Riskalyze tool, our clients know that we invest their money to meet their Personal Risk Tolerance. Find out your Risk Score now!
Interested in finding out how Riskalyze works?
---

Finally, you have your financial life goals in place and your investments aligned with your risk tolerance. How do you keep track of all this information?
We have that taken care of for you. We have partnered with Blueleaf to give you a Personal Financial Dashboard where everything is in one place. This dashboard is available for you to track and understand all of your financial accounts, not just the ones we manage. This simple and informative online dashboard allows you to see your balances, performance, allocation, and holdings information at any time.
Need a summary? Weekly, you will receive an email that looks like the example below. It will show you the current values for not only your accounts held with us, but also your entire outside financial accounts; company 401(k) plans, credit card balances, mortgages, and student loans.
Are you interested in how Blueleaf works? Contact us for a no-cost 30 day trial.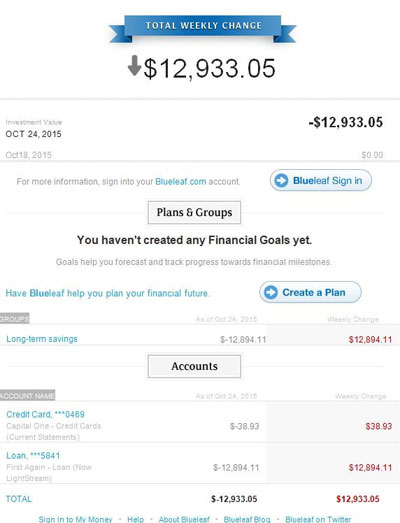 Have any questions about Blueleaf?
---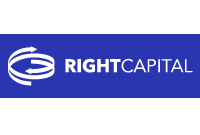 Set up your own personal plan for success.
---
Our View on Pricing
We utilize an investment Assets Under Management (AUM) approach. We believe the AUM approach best aligns our compensation with your goals. Our approach puts us on your side of the table.
What It Costs
We charge one all-inclusive rate for investment management, financial planning and on-going as needed financial consultations. We don't believe in piling on the fees, so our clients receive both investment management and comprehensive financial planning for one rate. We calculate the rate based on the AUM for the entire household relationship.
Our Rate Schedule
Annual Rate %
$0 – $1,000,000
1.25%
$1,000,000 – $2,000,000
1.00%
$2,000,000 – $3,000,000
0.75%
Over $3,000,000
0.65% –
Maximum of
$25,000
annually
Our Location
Tannery Company
740 E. Campbell Rd.
Suite 120
Richardson, TX 75081
Phone: (214) 239-4700
Fax: (214) 239-2929
Our Hours
Monday-Thursday / 8a-5p
Friday / 8a-4p