The confluence of graduation for colleges and high schools and the beginning of summer sends many an adult and child looking for something to occupy there summer time.  Whether you are sunning yourself on the beach, lazing in your parent's house or listlessly looking for advice and guidance look no further.
I have gathered five of my favorite books that occupy space in my library.  Which due to space requirements is approximately one-hundred books give or take five.  Once I reach over that limit it is time to either give them away or sell them to Half Price books which is basically the same activity.
These are five of the best books for you in my opinion.  Ranging from advice to those recently graduating to all of us as either parents or children.  If you decide you want one, I just happen to have several extra and will gladly share.  Leave a comment on my Facebook post of this blog and I will make sure you have it in time for next weekend.
Michael's Throwback Summer Reading List
School is out, yet most graduate from college and high school with ZERO money management skills.  A simple read for the basics whether you need it for the first time or its time for a refresher course.  Financial skills make a difference in your financial success.  Which of the 99 skills have you mastered?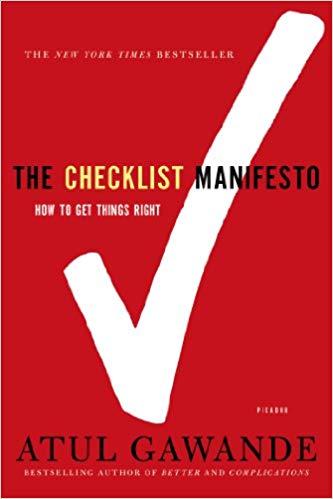 This is the first book I read by Atul Gawande and the application of checklist is applicable whether you are a school teacher, a surgeon or flying an airplane.  At its simplest, every recipe is a checklist.  I would love to hear your response about how they bring back to life a child who was underwater for 45 minutes.  The key of course what the checklist had them do first.
If you can measure it then you can achieve it.  However, are you measuring what matters MOST?  Read about the fearless innovators of our time and learn the lessons of their success and failures.
If you lead a team of any kind, this is a must-read for team success.  Once you have buy-in from the team and you are measuring the key performance indicators success will open the door to you.
How many goals have you started and then failed to finish?  Was it because you didn't try hard enough?
Or maybe was it because you tried too hard.
Perfectionism is the greatest obstacle to overcome.  This is a great book for everyone and I encourage spouses to read it together.
Death is probably not high on your summer reading list.  Mine either, however as we have nearly perfected overcoming how we deal with various illnesses we have created a problem.
How do we deal with aging and living longer?
If you are a parent or a child, you need to read this book.  There is a conversation that needs to happen and none of us really know how.  If I was the teacher and you were my student this would be mandatory reading.
You can get them all on Amazon and your kindle.
Enjoy your summer and keep the mind engaged.  Let me know which books you read and what you think about them.
I need a new book to read, what would you suggest?
Michael Tannery CPA CDFA® AIF® ●  CEO
Registered Principal
Subscribe here to our weekly blog
Be A Financial Olympian